Claire Guest Lectures At The 4th Masterclass In Orthognathic Surgery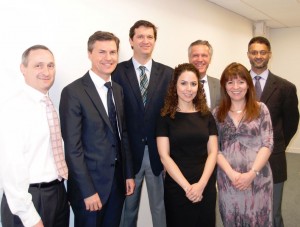 On Wednesday 22 October, Claire Nightingale (front right) and fellow consultant orthodontists from the North West London and West Herts NHS Trusts were guest lecturers on The 4th Masterclass in Orthognathic Surgery, run by Consultant Maxillofacial Surgeons Mr Carlo Ferretti and Mr Manolis Heliotis (centre back row).
This is a 4 day intensive course aimed at maxillofacial and orthodontic trainees and was over-subscribed. Claire shared her opinions about the pre-surgical orthodontic preparation of patients with class III malocclusions, in particular the importance of keeping the upper third molars (upper wisdom teeth) in situ, in case upper second molar position becomes problematic during treatment and need to be extracted.
---