Books
ILLUSTRATED QUESTIONS IN ORTHODONTICS
NIGHTINGALE, C. AND SANDY J.R. PUB: OXFORD UNIVERSITY PRESS 2014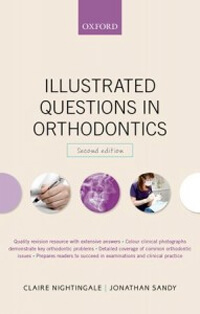 Please click the cover to download a sample of the book.
Book Description: Illustrated Questions in Orthodontics takes a problem-based approach to orthodontics, offering a unique resource for undergraduate dentists.
This book contains a comprehensive set of questions relevant to undergraduate orthodontics curricula, including chapters on examination and diagnosis, treatment planning, pathology, appliances, and anchorage. Each chapter is packed with high-quality clinical photographs and x-rays to help readers to test their skills in identifying and describing various orthodontic problems and presentations. Furthermore, every question is answered with extensive feedback, setting each topic in a clinical context in order to teach as well as test.
The ideal revision resource for undergraduate dentists looking to test and consolidate their knowledge ahead of placements and exams, Illustrated Questions in Orthodontics will also form a useful tool for postgraduate dentists and orthodontic therapists.
This material was originally published in Illustrated Questions in Orthodontics by Claire Nightingale and Jonathan Sandy, and has been reproduced by permission of Oxford University Press.
For permission to reuse this material, please visit http://www.oup.co.uk/academic/rights/permissions.
ORTHODONTICS: A PICTURE TEST ATLAS
NIGHTINGALE, C. AND SANDY J.R. PUB: WRIGHT 2000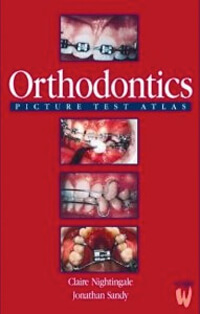 This new book is an excellent introduction to orthodontics for the undergraduate, using a problem based learning approach. It provides a visual means of testing knowledge in a subject commonly found difficult by students. The well-illustrated text explains the basic principles of orthodontics, the application of different appliances and the management of common problems. The superb colour illustrations will also make this a valuable tool for the General Dental Practitioner, when explaining problems and treatment plans to the patient. In addition, it provides a firm foundation upon which the postgraduate orthodontic student can base further study and for those studying for MFDS and statutory examinations.
Reviews:
"The problem-based approach makes learning enjoyable. The lay-out of this book in every aspect including the text makes such an approach all the more enjoyable. It may sound strange to say but it was difficult to put it down. It was a pleasure." – The GDP, October 2001
"The book is very stimulating to read and the contents could certainly awaken an interest for further orthodontic studies." – European Journal of Orthodontics 24 (2002)
"Bound to be popular!" – Judges, Medical Book Awards, 2001
A PICTURE BOOK OF ORTHODONTICS
NIGHTINGALE C. (1997, REVISED 1999; 2008)
This is a compilation of clinical photographs of different dental braces and before and after photographs, for patient education at the chair side. Priced at £40, available directly from Claire Nightingale.
POSTGRADUATE NOTES IN ORTHODONTICS,
MSC / MORTH PROGRAMME
ATACK N.E., TURNER S.R., THOMAS P.W.T., NATTRASS C., SANDY J.R. (1998)
BRISTOL UNIVERSITY
This is now in a greatly expanded form, and consists of concise references to support the learning of postgraduate dental students in orthodontics. It is available directly from Bristol University.
Academia
THESIS
An investigation into the force delivery properties of elastomeric space closing systems and nickel titanium coil springs.
Nattrass, C. Master's Thesis, January 1996
PAPERS
Nattrass C. (1988)
HIV infection: comparing attitudes, knowledge and cross-infection amongst dentists in San Francisco and Great Britain.
British Dental Journal; 165: 412-414
Nattrass C., Sandy J.R. (1995)
Adult Orthodontics: A review of the literature.
British Journal of Orthodontics; 22: 331-337
Nattrass C., Ireland A.J., Sherriff M. (1997)
An investigation into the placement of force delivery systems and the initial forces applied by clinicians during space closure.
British Journal of Orthodontics; 24: 127-131
Turner S.R., Nattrass C., Sandy J.R. (1997)
The role of soft tissues in the aetiology of malocclusion.
Dental Update; 24: 209-214
Nattrass C., Ireland A.J., Sherriff M. (1998)
The effect of environmental factors on elastomeric chain and nickel titanium coil springs.
European Journal of Orthodontics; 20: 169-176
Nattrass C., Ireland A.J., Lovell C.R. (1999)
Latex allergy in an orthognathic patient and its implications for clinical management.
British Journal of Oral and Maxillofacial Surgery; 37: 11-13
Bennett J.C., McLaughlin R.P., Nightingale C., Trevisi H.J. (1999)
Sliding mechanics after premolar extractions – technique, force levels and outcome.
Revista Espagnola de Ortodoncia; 29: 234 – 239
Tippett H., Nightingale C. (2000)
The use of removable appliances in contemporary orthodontic practice.
Dental Practice: 38: 15-17
Lloyd T., Nightingale C., Edler R.J. (2001)
Technical note. The use of vacuum – formed splints for temporary intermaxillary fixation in the management of unilateral condylar fractures.
British Journal of Oral and Maxillofacial Surgery: 39: 301 – 303
Nightingale C. (2001)
Risk management in orthodontics – making clinical practice safer.
Dental Update: 28: 437 – 441
Nightingale C., Manisali M., Amin M. (2002)
An audit of orthognathic cases, June – December 1998.
The British Orthodontic Society Clinical Effectiveness Working Party. Newsletter No. 15, July 2002; 3.
Nightingale C., Witherow H., Reid F., Edler R. (2003)
Comparative reproducibility of three methods of radiographic assessment of alveolar bone grafting.
European Journal of Orthodontics 25: 35 – 41
Nightingale C., Jones S.P. (2003)
A clinical investigation of force delivery systems for orthodontic space closure.
The Journal of Orthodontics; 30: 229-236
Nightingale C. (2008)
The Use of Removable Appliances in Current Orthodontic Practice.
The Journal of the British Dental Health Foundation; 35-39
Nightingale C., Dewhurst S. (2008)
Case Study: The joint orthodontic / restorative management of an adolescent male with severe hypodontia.
Aesthetic Dentistry today 2: 70 – 73
Basati M., Nightingale C. (2017)
Demonstrating the benefit of self – ligating brackets in the management of severe dental crowding on a non- extraction basis
Orthodontic Update: 10: 151 - 156
ABSTRACTS
Nattrass C., Ireland A.J., Sherriff M. (1996)
An investigation into the initial force applied during orthodontic space closure.
The British Society for Dental Research publication, pp. 209
Nattrass C., Ireland A.J., Sherriff M. (1997)
Initial force application and the choice of mechanics made by clinicians for space closure.
British Journal of Orthodontics; 24: 83
MISCELLANEOUS
Nightingale C. (2008)
From here to maternity
Orthodontic Business Supplement; 2: 7